PowerPal - PCC E-Cig Deluxe Kit
$110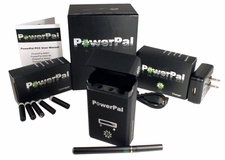 PowerPal - PCC E-Cig Deluxe Kit

1 x PowerPal PCC E-Cig Deluxe Kit




PowerPal Deluxe Kit Box Contents:
1- PowerPal Personal Charging Case

2- PowerPal e-cig Batteries

2- Ultra Atomizers

5- Ultra Cartridges (empty)

1 x USB Charger Cord for PowerPal PCC

1 x AC-Power Plug (N. American)

1 x PowerPal User's Manual
PowerPal PCC's
PowerPal is a Personal Charging Case (PCC). PowerPal is a high-quality, light-weight case that holds your spare carts and atomizer, and charges your battery while you are on the go! No more worries that your e-cig will run out of power while you are out and about, PowerPal is the answer! It will hold up to two batteries, 4 carts and/or atomizers and will charge one of the batteries. PowerPal has an unique Power-window, a LED-light window that tells you the status of the PCC's power. PowerPal has enough power to last you all-day long!


PowerPal PCC Specifications:
*Dimensions - 99 x 56 x 24mm

*Weight - 97g

*PCC Battery - 3.7V - 1400mAh

*Charging Voltage - Input AC 100-240V, Output DC 5V

*Charging Time - 4.5 hours

*Number of Battery Charges - 4-7 (depends on mode)